(I don't like the Titans but the draft is in Tennessee so shut up)… Guys, butter your biscuits… WE ARE SO CLOSE. I am just about to burst full of excitement. I can not contain myself anymore. 1 WEEK MY DOOOOODS. I mean holy hell. HOLY HELL.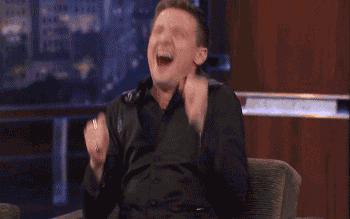 Jeremy Renner is my mood. I just get giddy. That is the first time I have ever used that word. Giddy. What a time.
Anyway, now that I have calmed down (not really but whatever), me and my good buddy @colemandennis have collaborated to bring you not 1, but 2 smoking hot deep dish 2 round mocks with a few trades sprinkled on top. Goodness, you either love us or hate us by now (if you hate me it's fine I kinda hate myself too, but that is a different blog for a different time).
I will try my absolute hardest to break down these picks and let you fine ladies and gentlemen into my mind (without you even buying me dinner first, TF?) and have a look around. Then you will know why I am as crazy as I am, well probably not but it was worth a shot to throw that out there.
1. Arizona Kardinals
CHOO CHOO, all aboard the Kyler and Kliff train. Everybody hop on because the hype is too real to be not real at this point. I mean if Arizona is going to get a coach based on the potential of what his offense can do, then let him go and create the offense he can win with. The guy who was made for Kliff's offense is certainly not Josh of House Rosen. It is indeed, Sir Kyler of House Murray, Heis of Man, Sooner of Boom, the Golden Child. (Sorry its Thrones season too and I am an addict). ANYWAY… Taking Kyler here gives the Kards another pick in the first round of this draft with the chance to add another key piece with a QB needy team looking for a trade that might be too far back to take a top choice. (HINT HINT).
THE PICK: QB Kyler Murray, OKLAHOMA
2. San Francisco 49ers
My Niners (Completely unbiased) prayed to the draft Gods with this pick and somehow lucked out with getting the best player in this draft with the second pick. Now let me go ahead and calm down all the criticism from the haterous cowards of which there are many… Yes the Niners have taken 3 Top 10 1st round Defensive Linemen in the past 4 years and went and added Dee Ford to come in and solidify one of the Rush spots, but to truly maximize this lines potential, take Nick Bosa and watch them all begin to blow up. The most true talent in this draft is a Bosa (Color me Surprised) and having him opposite Dee Ford will create a tandem that can rival almost any pass rush in football, that is the next step San Fran needs to return to dominance.
THE PICK: EDGE Nick Bosa, OHIO STATE
3. Denver Broncos (Trade with
NYJ
)
So hear me out… the Raiders probably won't take a quarterback but they are just dumb enough that they might… I mean really who the hell can guess what Gruden will do next? They have shown real interest in Drew Lock however… And they draft at 4. Now once again, follow along this will be a little bit of a process. The Jets certainly need players, but with this being a heavy Edge class (the Jet's biggest need), trading back to add more picks and still being able to get a starting quality edge would be HUGE for New York… Now the Broncos… Look Flacco may be elite but he isn't a long term option and John Elway knows he does not have the safety net to let him try. Adding a quarterback with long term potential and giving him the time to develop into a true starter might be just the move to save Elway's job.
THE PICK: QB Drew Lock, MISSOURI
4. Oakland Raiders
The Oakland (potentially no longer a joke) Raiders, might be ok to something. No they did not end up with the number one pick in their tanking venture in year one of the Gruden Decade, but top 5 will still get them a position they can build around moving forward, and with their luck, they still end up with arguably the best player in the draft. Quinnen Williams, is an absolute monster of a man, and can recreate the interior of this team immediately and give the Raiders a face moving forward. I mean hell, Gruden loved Warren Sapp, this could be the next generation.
THE PICK: DL Quinnen Williams, ALABAMA
5. Tampa Bay Buccaneers
The Bucs are another dumpster fire in the NFL unfortunately… They want to start scrapping and looking toward the future, but they still have too much talent to be picking top 5, it's a weird spot to live in. They are staying with Jaboo the W eating Crab Man, which yuck, but it is what it is. I trust Arians, I really do, but idek what you do with this mess. They lost Kwon so taking a guy who can start right away and immediately be top 10 at his position to replace him would be a pretty good move here, it would also make Devin White the captain of the Bucs defense moving forward, giving them a whole new type of DAWG in the middle.
THE PICK: ILB Devin White, LSU
6. New York Giants
The official garbage can of the NFL, the Giants are picking at 6 and they have the heir apparent to Eli Manning, Dwayne Haskins on the board. Finally a good decision, it will all pan out from here. *Record Scratch* (Gettlemen Enters) Nah lets take an edge to replace Olivier Vernon who I traded. Yeah, okay, I like Josh Allen, but Eli can't play quarterback forever let alone the past 3 years. UGH
THE PICK: EDGE Josh Allen, Kentucky
7. Jacksonville Jaguars
Sacksonville dropped the Boat for Big Dick Nick, and now we are in a world where a team that had one of the most terrifying defenses ever, is struggling to find any offense. Step 1 to paying all of your money on a Free Agent QB, draft a lineman to save his ass, that lineman is Jawaan Taylor. Big dude, super athletic, but kind of getting over hyped for my liking. I don't agree with the fall of Jonah, but I like the idea of taking a lineman, so get one who at least is a first round talent (NOT TOP 10) and try to build there. I like the vision I just don't know about the path.
THE PICK: OT Jawaan
Taylor
, FLORIDA
8. Detroit Lions
Now Rashan Gary is an athletic freak. That is good and bad. Good because well, you can potentially do a lot with an athletic freak that can stretch across several positions and he can be a real problem… On the other hand it can be bad because pure athleticism does not always translate to footballism. If this dude is just a workout warrior who shines in the weight room that doesn't do a whole lot for the team moving forward. Look Rashan played at Michigan so he's already popular in the area and has insane intangibles which make him a top 10 pick, just one to keep an eye on. The worst part of all of this is Matt Patricia needs a banger of a pick here and idk if Rashan is that. But if anyone can get something out of a guy like this it's someone from Belichick's coaching tree.
THE PICK: DL/EDGE Rashan Gary, MICHIGAN
9. Buffalo Bills
The Buffalo Bills actually did a lot of work on their OL and WR positions which were huge needs in Free Agency, which gives them the chance to take a different need if it's a much better player, and (regardless of how overrated I think he is) Ed Oliver is that guy. The Bills just lost Kyle Williams and an immediate replacement with another athletic freak like Ed would be a huge add on to a defense that was already solid. One way to disrupt the young quarterbacks in your division is to sick your terrifying DT at them anyway, I like the pick here for the Mafia that is building a good group.
THE PICK: DL Ed
Oliver
,
HOUSTON
10. New York Jets (Trade with

DEN

)

Now here is the last part of the vision, the Jets get 10, and the Broncos 2nd (which we will get to later). They still have a top 10 pick and there is still a ton of talent on the board for the Jets to get a solid Edge who can come in and immediately be a problem. Someone like Montez Sweat who had a meteoric rise during the pre draft process to come in and be the Jets new premier edge adds another layer to a defense that has already added A LOT.
THE PICK: EDGE
Montez
Sweat, MISSISSIPPI STATE
11. Cincinnati Bengals
Whoever named it Cincinnati is an asshole. Straight up. It should have one "N" and 2 "T"'s. Cincinatti looks better than Cincinnati. That is all.
I had the same thought process for the Bengals that I did with the Kards; the Bengals went and got Zac Taylor to be the new head man and that means letting him do what he can do, which is be a quarterback guru and mold an offense. One of the things he can't do with just a 30+ year old Ginger there. BUTTTTTTT, add a guy like Dwayne Haskins, who I am not as low on as others, and let him sit one year behind Andy, and the dude can turn into a problem right at the right time when the powers of the AFC North are shifting.
THE PICK: QB Dwayne Haskins, OHIO STATE
12. Green Bay Packers
Okay, the Packers are in really good shape even though it's now publicized Aaron hates everyone in the building (not true probably a mixture of small things but it's kinda funny). They have already added edge and safety help but getting a true captain for the middle of their defense would be the biggest and maybe most important addition to this team. A guy like Devin Bush Jr. coming in and immediately taking command of this team would be just what new head coach Matt LaFleur needs to solidify his defense so he can focus on being the offensive weapon he is.
THE PICK: ILB Devin Bush Jr., MICHIGAN
13. Miami Dolphins
So I will go ahead and give all of you permission to jump on the Miami Dolphins bandwagon. The Raiders so far look successful tanking, but the Dolphins are doing it truly majestically as they sign a 40 year old QB with no true back up and continue taking need positions that will help a rookie QB once he comes to be. So how do you #TankForTua and set him up for success? Well you draft his Left Tackle. Jonah Williams comes in as (in my opinion) the best OL in the draft. Absolute dog who can play anywhere and with Laremy Tunsil already thriving there, this line could look dangerous, and young. Once again, the best way to set up your soon to be rookie after a tank year, is to protect him. Good shit Miami.
THE PICK: OL Jonah Williams, ALABAMA
14. Atlanta Falcons
So the Falcons are kinda in a weird spot tbh. They need to start retooling their D a little bit, yeah it was torn to shreds from injuries last year but that is why they are picking so early. And with the abundance of edges in this class, Brian Burns could be a guy who adds a lot to this team. No one is quite like him, with how tall and long and fast he is, he just takes over edges. A guy like that will force lines to stretch opening more holes for Grady Jarrett and Deon Jones. Good situation for a good player here.
THE PICK: EDGE Brian Burns, FLORIDA STATE
15. Arizona Kardinals (Trade with
WSH)
So the Redskins are going to be forced to make a splash here and simply just so the Giants can't do it, the Skins will be the Rosen landing spot. Not a terrible situation, technically taking Rosen at 15, who ranks out as the number 1 or 2 QB in this draft depending on who you ask, but that is a fantastic haul and saves the Redskins from taking Daniel Jones, which yikes.
The Kardinals come in here and get another piece to help create the Kliff and Kyler era. Now honestly, I would come in and take the best player available either side, but the way it worked out, TJ Hockenson is still on the board. And giving Kliff a young Gronk? Come on, how the hell is that legal? Immediately adding a blocking presence to help and one of the better receivers in this class would go a long way to helping Kyler's transition to a successful NFL quarterback.
THE PICK: TE TJ Hockenson, IOWA
16. Carolina Panthers
So this one is pretty easy, the Panthers have a QB named Cam Newton who was invincible then he got destroyed from a lack of an offensive line, now it has become common knowledge if you want to keep your starting QB, you have to protect him. Andre Dillard is in no way the best lineman here, but he can pass block with the best of them and has the size to be a true starting tackle. Is the run blocking all the way there? No, but with the right grooming and development you can turn that on in any prospect.
THE PICK: OL Andre Dillard, WASHINGTON STATE
17. New York Giants
So first off be looking for them to make a big push for Rosen, but I feel like since the battle for a quarterback really sits between NFC East rivals, the Redskins will get Rosen just so the Giants can't… so if the Giants can't end up with a Rosen trade then…
HAHAHAHAHAHAHAHAHAHAHAHAHAHAHAHAHAHAHAHAHAHAHAHAHAHAHAHAHAHAHAHAHAHAHAHAHAHAHAHAHAHAHAHAHAHAH…. I mean, THEY COULD'VE GONE AFTER RUSSELL OR ROSEN… AND THEY END UP WITH Daniel Jones. HAHAHAHAHAHAHAHAHAHAHAHAHAH. The sad thing is that this can actually happen. He is literally a bad Eli Manning. The Giants already see their guy in him so why the hell not.
THE PICK: QB Daniel Jones, DUKE
18. Minnesota Vikings
A reoccurring theme amongst the teams that can never get over the hump is having to draft to protect investments that destroyed your cap room. For the Vikings, that investment is Kirk Cousins, and Golllyyyy does he suck. But in his defense, the Vikings had one of the worst lines in football. So add Cody Ford and give him a chance. A all money guaranteed chance. Cody can go and play any position on the line and is a very competitive and super athletic player in this draft, and will actually translate really well… in my opinion.
THE PICK: OL Cody
Ford
, OKLAHOMA
19. Tennessee Titans
It's no secret why the Titans were on AB's radar, they need another strong pass catcher. Corey Davis is really really good. But not when he is the only one, adding another dude there to be a prime receiver will literally let the entire offense evolve to a whole new level by taking eyes off of everyone, and that man is named DK Metcalf. The eyes are on him and they stay on him. I mean the guy is a freak. A literal freak. He can potentially be the best receiver in this draft and even beyond that. He can prolong Mariotas career and give this team one of the biggest weapons potentially in the league. Yikes.
THE PICK: WR DK Metcalf, OLE MISS
20. Pittsburgh Steelers
So the Steelers are actually really good at developing non-first round receivers, so don't overthink this and try to fit in an AB replacement when they have James Washington just waiting. Also, their defense sucked last year, specifically the passing defense, so easy solution to that is drafting the best Corner available, Greedy Williams. Adding Greedy gives this team a versatile lockdown corner that can go and compete with a division that now has OBJ, AJ Green and Jarvis Landry. If they want to compete this has to be the pick.
THE PICK: CB Greedy Williams, LSU
21. Seattle Seahawks
The Seahawks are losing everyone they love and hold near and dear to their hearts. The Seahawk might be a dying bread, whose to say? I mean the only remaining member of the LOB is Kam Chancellor and who knows if he will ever walk again? They have to start the rebuild for their secondary which made them great soon, and already having Shaq Griffin is a huge start, but adding a corner on the opposite side who can really do everything would be an amazing second step. Byron Murphy is that guy and on top of that, he is already a big name in the area.
THE PICK: CB Byron Murphy, WASHINGTON
22. Baltimore Ravens
The Ravens are sticking with Lamar now, officially. And we can go down the rabbit hole of how I feel about that on a different day, but let's just say… Meh. But if you are truly sticking there then give him the tools to be good. I mean damn, they need a true WR out, and if you gave the Ravens the best all around guy in this class in AJ Brown, I see him immediately thriving. He can do it all, and will provide Lamar with an option at all times. Seems like a pretty good way to make your new franchise QB happy to me.
THE PICK: WR AJ Brown, OLE MISS
23. Houston Texans
Now tell me if you have heard this one before… The Texans young franchise Quarterback has no protection and is in danger of literally dying from monster defenses. Yeah, time is a flat circle and dumb people apparently stay dumb. But here they go and take one of the best lineman in this class in Chris Lindstrom. Now for those of you who don't know about my guy, he is essentially this year's perfect guard. He is a dirty big man who loves contact and can move laterally with the best of them and also has the ability to change direction and advance to the next level on the fly. The man is athletic enough to run with Watson and lead block in some creative scrambling moments that most certainly come about. This is a guy who turns into a 12 year starter and All-Pro.
THE PICK: OL Chris Lindstrom, BOSTON COLLEGE
24. Oakland Raiders (Trade with
CHI)
Okay, now the next step in the rebuild is get the next big badass offensive weapon that you will use for the next 10 years. And guess what, he is Quinnen's teammate AGAIN. Josh Jacobs is the best running back in this draft and if he is in fact 100% healthy, that might just be the start. He has literally the same exact build as Kareem Hunt and Alvin Kamara. He runs through people like Kareem, but uses his speed on the agility moves like Alvin. He is incredible out of the backfield and never even started a full season at Alabama, SO HE DOESN'T HAVE THE WEAR AND TEAR. On top of that, Marshawn Lynch isn't living forever. You can already have a giant staple of your offense set for the next 10 years if you're Oakland by getting Jacobs here.
THE PICK: RB Josh Jacobs, ALABAMA
25. Philadelphia Eagles
The Eagles are actually a really hard team to predict because they kinda do have depth everywhere right now. They have a full roster of depth and talent across the field, so you start to prepare for potential departures and build even more depth. One guy that could make an instant impact as more of a Nickel Box Safety that just lays absolute murder hits on players would be Johnathon Abram. Abram was hurt during Senior Bowl week but that didn't stop the hype of him to grow as film and practice showed he was an absolute criminal at Safety with the way he hit people. This is a position more and more teams are targeting to fill because of how important it has became to every team to have a true enforcer in the middle, and buddy Abram is that enforcer.
THE PICK: S Johnathon Abram, MISSISSIPPI STATE
26. Indianapolis Colts
Lets go ahead and just say this, the Colts are good at drafting, and a smart drafting team would understand that taking a top 10 talent in this draft even though he probably won't be ready right away to start this season is worth it if he will be on your team for 5 years and be a LEGIT starter. So the Colts will do the smart thing and take a guy who will be their future starter for many years to come in Jeffery Simmons. The Colts have built a monster in Indy and outside of another receiver, defensive tackle, and some secondary help they are a solid team. Getting one of the best DTs in the draft here really helps that cause and continues to make Indy scary.
THE PICK: DL Jeffery Simmons, MISSISSIPPI STATE
27. Oakland Raiders (Trade with
DAL)
Now uhh this is where it all kinda gets really like WTF for people paying attention to the Black and Silver. I don't know why Clelin Ferrell went from a no doubt top 10 guy to falling down into the 20's but the Raiders are loving it. They get the edge to replace Khalil, the DT in Quinnen to destroy the middle, and the back of the Future to tie the rest of the offense together in Josh Jacobs. Dude I mean if this is how it pans out, has Gruden been punking us this entire time?
THE PICK: EDGE Clelin Ferrell, CLEMSON
28. Los Angeles Chargers
So the Powder Blues (THANK THA LAWD) are looking to continue building this team into even more of a contender, but the one area the Chargers can always use help on is the Offensive Line. Good thing for them, there are a lot of good, versatile offensive linemen in this class. One such monster is Dalton Risner out of Kansas State. I honestly can't say enough good things about this dude. He fought Zach Allen at the Senior Bowl, he has played every position on the line, and he came from K State, where all they do is run it down your throat. HE IS A DIRTY BASTARD MAULER, which is the best thing you can ask for in an offensive linemen. He will fall because of his arm length and questions about K State, but will undoubtedly turn into one of the better offensive linemen in football sooner than later.
THE PICK: OL Dalton Risner, KANSAS STATE
29. Kansas City Chiefs
I know what you're thinking, "Grant you have to draft defense here what the hell" well to that I say, shutup nerd. The Chiefs have had kinda one hell of a Free Agency quietly. They got the honey badger, two edge rushers, and retained the youth already on their roster. The thing they lost? Their Center, and you have to have a good center in this league if you have arguably the best QB in football, simply to keep him safe. And believe it or not, Garrett Bradbury is an instant plug and play Center for this team or arguably any other team in football. Another smart interior OL in this class that has played multiple positions and just battled with the best of them, Bradbury can come in and be a starter for the Chiefs for a long time, and once again not a sexy pick, but a good one.
THE PICK: OL Garrett Bradbury, NC STATE
30. Green Bay Packers (Trade with
NO)
Once again, Matt Lafleur has inherited a team that has taken care of the majority of defensive concerns, and in this mock has already taken a very good Inside Line Backer in Devin Bush. Now go and give Aaron and the new offensive guru head coach some weapons right? YES, and lucky enough for these Cheeseheads, Noah Fant is still available. Yes the most athletic Tight End in a very good, very deep Tight End class is here. The dude is like a big receiver, but very efficient. You can literally do anything with this guy and with Davante Adams on opposite sides of the field? Buddy watch the hell out.
THE PICK: TE Noah Fant, IOWA
31. Los Angeles Rams
So no one knows what will happen with Ndamukong Suh and I think for a lot cheaper and a lot more long term they can create the same production by taking Christian Wilkins. Wilkins was the heart and soul of the Clemson defense. He controlled everything and created opportunities for all of his teammates on the line… Sound familiar yet? He can come in and be an emotional leader that is just GOOD at everything right off the back. That is how good teams stay good, and why the Rams will take him at 31.
THE PICK: DL Christian Wilkins, CLEMSON
32. New England Patriots
The reigning champs lost a lot of talent but have 12 picks to revamp and reload. One such position they have not addressed yet is actually replacing Danny Shelton. You remember Danny right? Failed Brown, that came to New England and became a 330+ pound wall in the middle. Well unfortunately for everyone, there is another version of that in this draft that is much better. MUCH BETTER. Dexter Lawrence is 340 pounds and ran 5.0 40. I don't know how that translates outside of me never going outside again due to my fear of this inhumane monster. On top of that, the dude has played at Clemson against some of the top competition in football over the past few years, and even Bama didn't know how to stop the Bastard. Now imagine giving this guy to a Belichick. Ya I am scared too.
THE PICK: DL Dexter Lawrence, CLEMSON
END OF ROUND 1
33. Arizona Kardinals
OL Erik McCoy TEXAS A&M
34. Indianapolis Colts
WR Marquise Brown OKLAHOMA
35. Oakland Raiders
CB DeAndre Baker GEORGIA
36. San Francisco 49ers
WR N'Keal Harry ARIZONA STATE
37. New York Giants
OL Greg Little OLE MISS
38. Jacksonville Jaguars
WR Kelvin Harmon NC STATE
39. Tampa Bay Buccaneers
S Nasir Adderley DELEWARE
40. Buffalo Bills
OL Elgton Jenkins MISSISSIPPI STATE
41. New York Jets (Trade with
DEN)
WR Deebo Samuel SOUTH CAROLINA
42. Cincinnati Bengals
ILB Mack Wilson ALABAMA
43. Detroit Lions
CB Rock Ya-Sin TEMPLE
44. Green Bay Packers
S Chauncey Gardner-Johnson FLORIDA
45. Atlanta Falcons
DL Jerry Tillery NOTRE DAME
46. Washington Redskins
WR Parris Campbell OHIO STATE
47. Carolina Panthers
EDGE Chase Winovich MICHIGAN
48. Miami Dolphins
CB Justin Layne MICHIGAN STATE
49. Cleveland Browns
CB Julian Love NOTRE DAME
50. Minnesota Vikings
OL Yodny Cajuste WEST VIRGINIA
51. Tennessee Titans
EDGE Zach Allen BOSTON COLLEGE
52. Pittsburgh Steelers
S Darnell Savage MARYLAND
53. Philadelphia Eagles
RB Miles Sanders PENN STATE
54. Houston Texans
OL Kaleb McGary WASHINGTON
55. Houston Texans
CB Amani Oruwariye PENN STATE
56. New England Patriots
EDGE Jaylon Ferguson LOUISIANA TECH
57. Philadelphia Eagles
EDGE L.J. Collier TCU
58. Dallas Cowboys
S Taylor Rapp WASHINGTON
59. Indianapolis Colts
CB Lonnie Johnson Jr. KENTUCKY
60. Los Angeles Chargers
WR Hakeem Butler IOWA STATE
61. Kansas City Chiefs
RB David Montgomery IOWA STATE
62. New Orleans Saints
WR Terry McLaurin OHIO STATE
63. Kansas City Chiefs
CB Trayvon Mullen CLEMSON
64. New England Patriots
TE Irv Smith Jr. ALABAMA
END OF ROUND 2
What did you bastards really think I would go and write a reason why for every second round pick too? Nah y'all are wild. BUT… In my opinion and based off of the majority of the needs that you can tell from each team, this is really in my opinion how it would go. We at Ball on the 25 will be bringing you more content as we get closer to the season, and as more offseason news breaks. Let us know if you want any topic covered or if you have any ideas for us to grow. Go give @BallOnThe25 a follow on Insta and Twitter and thanks for sticking around to read this. Thank God we finally made it to draft season Ladies and Gents.
– @GrantCaravelli